Contactless check-in reduces manual data entry, waiting room bottlenecks, and helps keep everyone safe during the intake process. Customized patient intake forms collect valuable information, and PatientLink delivers it to the EHR as discrete structured data. Virtual appointments allow you to meet with patients in a web-based video chat. Consents and intake information are captured prior to appointment.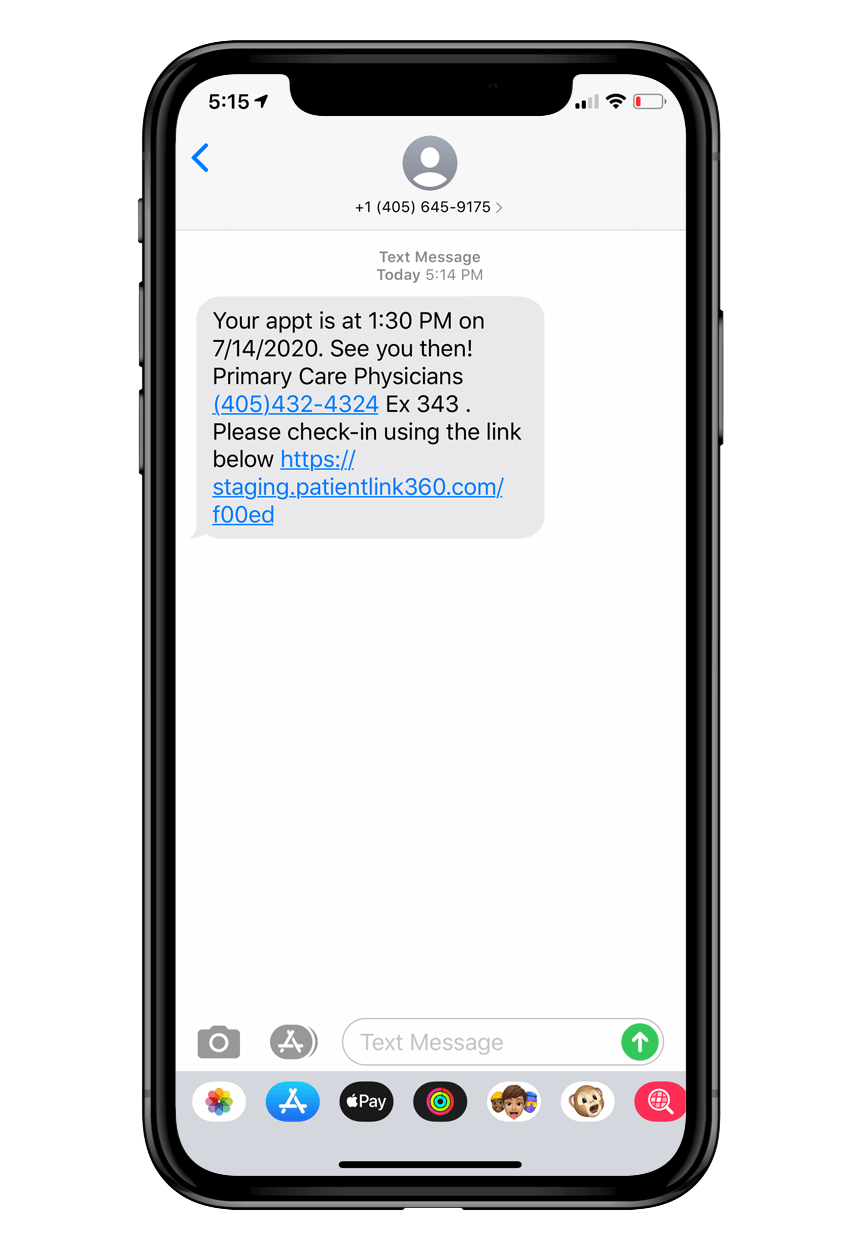 Save time and money on manual data entry by providing patients with the ability to complete their intake using PatientLink 360.
With PatientLink 360, patients receive customizable appointment reminders via email/text message. Their reminders include a secure link to the specific form set needed for their appointment. Throughout the process, the patient is able to:
• review/update demographics
• make payments
• sign consent forms
• complete questionnaires/other clinical data forms
• upload image files (insurance cards, ID's, etc.)
Upon completion, all information collected will be delivered to the EHR/PM as discrete structured data.
 When their appointment is set and certain criteria are met, patients receive a customizable text message reminder and email. The reminders will include a link to their intake forms, which must be completed prior to the appointment.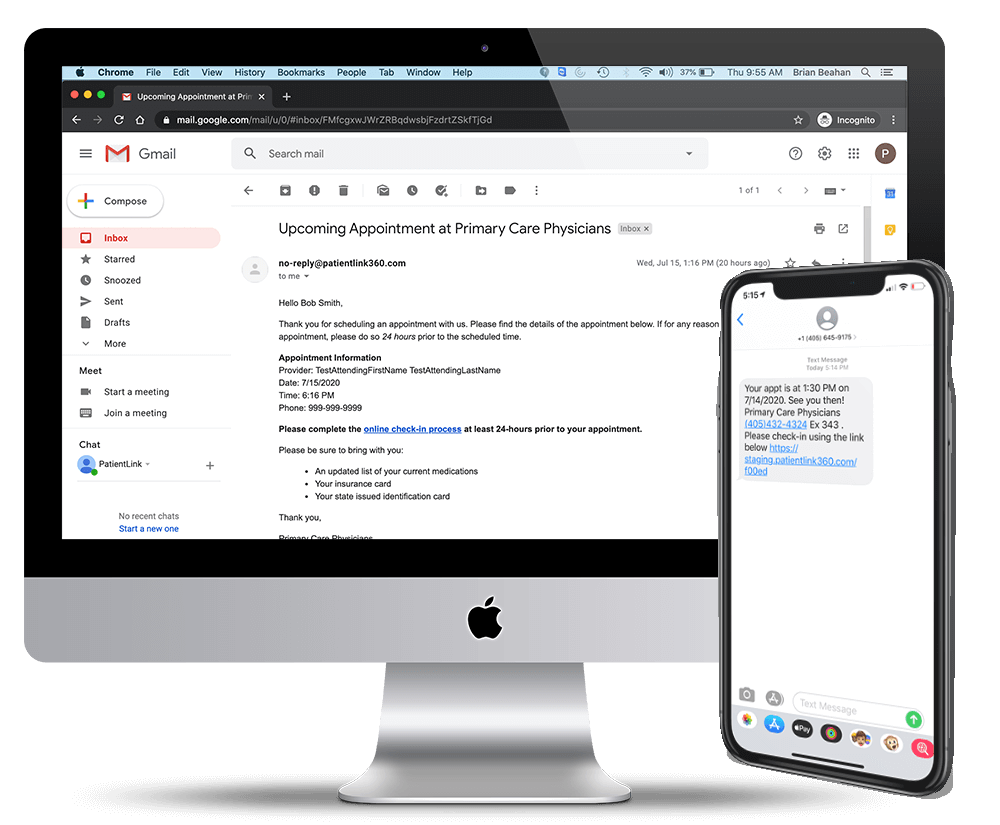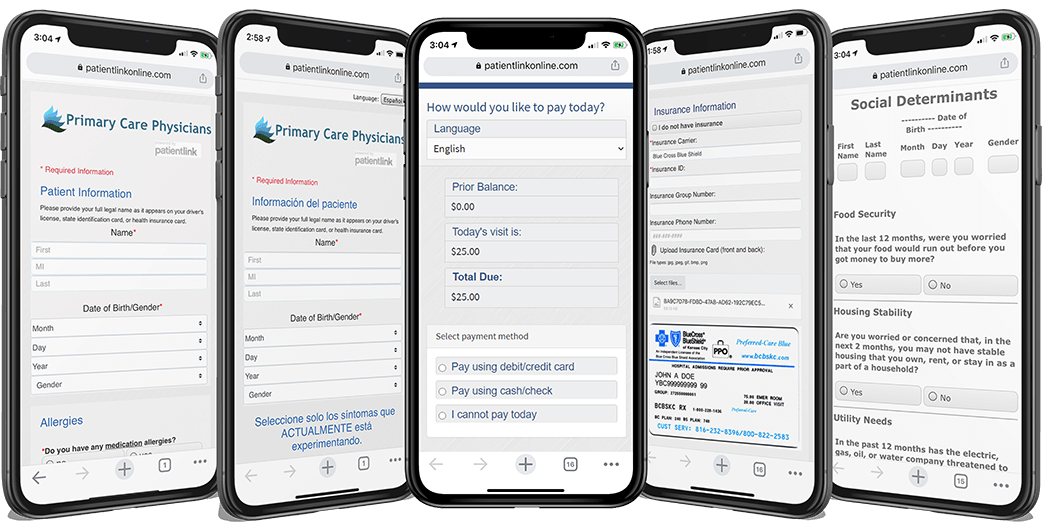 PatientLink customizes the patient intake process to match the dataset required from your patients, sending forms and appointment confirmations to patients at the appropriate time. Below are some examples:
• Telehealth consents
• PHQ-9s
• SDOH questionnaires
• Post visit surveys
• Insurance information
• Bill pay
• Intake forms
The information collected is sent as discrete structured data into your EHR. PatientLink 360 interfaces with the EHR and PM software to provide an easy, seamless experience for everyone.
PatientLink 360 streamlines patient intake, improving your workflow.  Patient generated health data flows as discrete structured data into your PM and EHR.
Patients are able to complete their intake digitally from home.
Front desk staff is relieved of the manual data entry.
Clinicians and staff spend significantly less time entering patient data into the EHR.
Time savings promotes quality patient engagement, while reducing visit time. It lessens stress and saves money.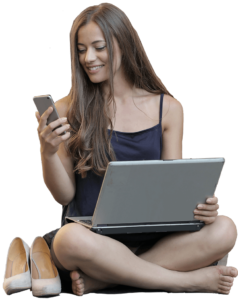 PatientLink 360 provides patients with the ability to check-in, submit intake forms and pay co-pays via their phone, PC or tablet. The secure web-based video visit link is sent to them via email or text message. Providers have their unique virtual waiting room, which is launched from the PatientLink 360 dashboard.
PatientLink 360 Telehealth Workflow
Patient's appointment is scheduled
Pre-appointment forms/consents automatically sent to patient via email/text
Patient completes consents and intake forms
The day of the appointment, patient receives reminder and pre-appointment instructions
Patient meets with doctor via their phone, pc or tablet
Meeting status and reporting available in dashboard
PatientLink 360 works on any web-enabled device
Automated forms based on appointment type
Patient intake completed at home
Patient reviews/updates demographic info
Automated appointment reminders via email/SMS
Patient provided health information sent as discrete structured data into the EHR/PM
Collect patient e-signatures
Collect co-pays or balances
Create and send customized patient outreach via email and text message
Fully integrated with your EHR/PM
Integrates with your merchant service provider
Customized patient experience to meet your workflow
Review patient data prior to accepting it into your EHR/PM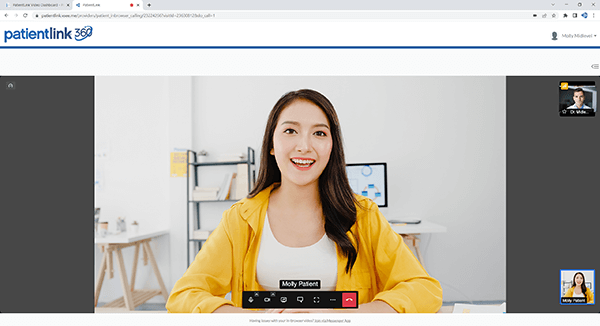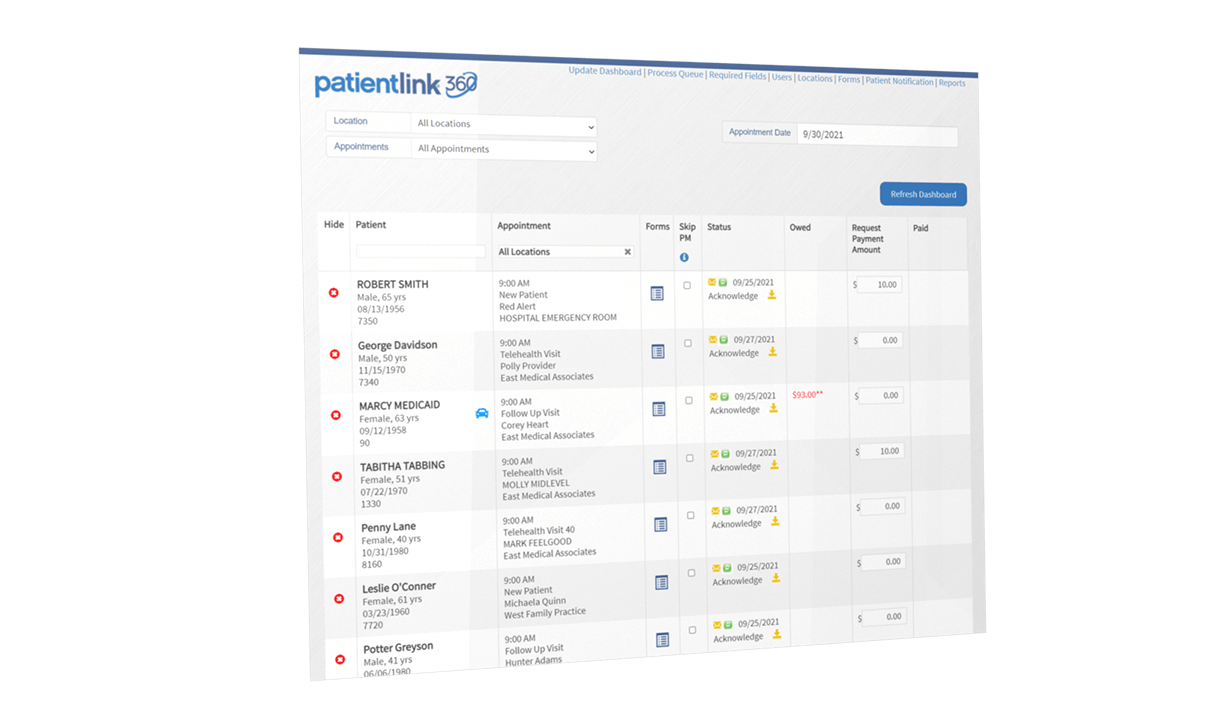 Push email or SMS reminders to patients
View patient demographics
Review and accept patient changes/updates
View appointment status
View billing status
Sort and filter by locations/providers
Fully customizable patient intake forms
Run reports
Send custom broadcast messages for weather related closures or other mass communication scenarios
Create users with controlled access
PatientLink 360 works with...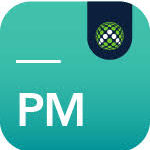 Allscripts Practice Management

Allscripts Professional EHR

Allscripts TouchWorks EHR


Athena Health (formerly GE)
Don't see your EHR or practice management software listed?
We have some integrations in progress now.  Contact us today to discuss future integration or other custom solutions that may work for you.